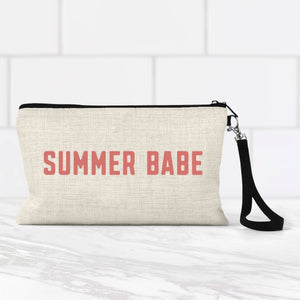 Cute summer babe zippered bag makes a great gift for any mom or girl who loves summer! This bag works perfectly for travel, as a cosmetic or makeup pouch and even as a cute beach case to hold small essentials.
- Design is printed on one side of the makeup bag
- Fabric is made from a natural colored linen polyester blend
- Make up bag approximately measure 9.45" x 5.90" with concealed black zipper (size may vary up to 1.5 inches, due to the hand sewn nature of this product)
- Since this is a natural fiber fabric it may contain slight color variations and imperfections
- Machine washable - cold water only.