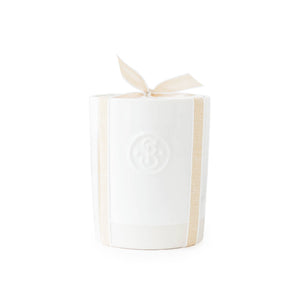 A little candle made with a lot of love. The Crisp White Linen candle now comes in petite size with a clean and simple ceramic design to go with any decor.
A 3 1/4 inch high white gloss ceramic votive comes with a raised SP logo and uncoated base. A cotton flax ribbon with an antique look and feel tie at the top with a simple knot.
Top notes of grapefruit, bergamot citrus, and lemongrass, with heart notes of green tea and geranium. With a cotton wick and soy-blend wax, the candle burns slowly so that the scent fills the air without being overwhelming.
Hand-poured in the USA.